CORPORATE HIRE
YOUR VENUE, YOUR GUESTS
Lost Society is adorned with the most instagrammable corners, art deco decorated walls and gorgeous velvet and brass accent furniture. Situated in the heart of Battersea, Lost Society offers immense versatility and is able to host a wide range of events from corporate parties, launch events, baby showers, gender reveals to album releases and wedding receptions.
You can expect a great variety of food & drinks to share – everything from snacks to more substantial meals all of which can be enjoyed in the suntrap garden. As the night draws in on Fridays and Saturdays, Lost Society turns into a banging club as fierce local and international DJs command the dance floor with an eclectic mix of tunes.
FEATURES
– Complimentary Wifi
– Canapés
– Signature Cocktails
– Dedicated Events Team
– Secluded Outdoor Area
– DJ Equipment
– Fully-Stocked Bar
– Lighting
– Music
– Air Conditioning
CAPACITIES
Main Room Area – 200
Lounge Bar Area – 80
Garden Area – 120
SPACE
Main Room: 147 m2 (1585 ft2)
Lounge Bar area: 54 m2 (580 ft2)
Garden area: 91m2 (980 ft2)
WELCOMES
– Meetings & Away Days
– Conferences & Fundraisers
– Corporate Receptions
– Product & Company Launches
– Workshops
– Summer Parties & Private Dining
– Cocktail Making Classes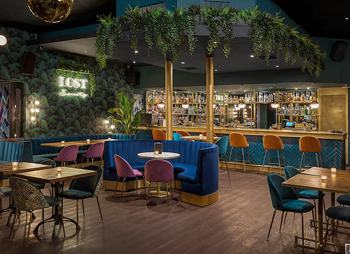 MAIN ROOM AREA
Our biggest space in the venue- Ideal for larger scale events such as; Conferences, Corporate Receptions or Product & Company launches. With the option of your own music/DJ.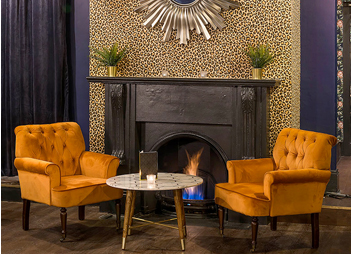 LOUNGE BAR AREA
Decadent private room with own access to our gorgeous garden. The space is a great fit for all types of private affairs, be it meetings, workshops or bespoke cocktail masterclasses and intimate dinners for those extra special occasions.
GARDEN AREA
Our beautiful botanical garden is the perfect space for summer parties, away days, team outings. Equipped with its own bar- and capacity of 120 guests- the space is versatile and fitting for a variety of events.
I can't sing their praises enough. Loved the aesthetic and facilities of the whole venue, and they really went out of their way to accommodate us. We had the garden booked for our office Summer party and after 3 months of straight sunshine of course we had the torrential downpours on the day we had booked! But they were so helpful and let us use the indoor space instead as it wasn't booked and was great with letting me decorate it myself for our party theme. They also did our BBQ food order from the kitchen instead and we were all very impressed with their ability to coordinate 25 people's food orders and get them all out (still hot!) at the same time. They also made us a special punch bowl at my request for arrival drinks and offered to let me store stuff at the venue after the event until I could collect it. Overall, the venue is lovely, the staff very helpful and the value for money on the booking was fantastic. Would 100% recommend to others 🙂

Absolutely great experience! I definitely recommend Lost Society Battersea! I organised a Surprise 30th Birthday Party for my partner and it turned out perfect! Both the staff on the night, as well as Fru, the event manager are absolutely great and were very helpful and careful with my wishes and requests. The music and two DJ s on the night were great and created a very fun atmosphere. From the position of both architect and designer as well as guest, I would describe the event space, which is newly refurbished, as successfully incorporating a glam and fresh design bringing a cool but classy vibe to the Battersea area. Thank you Lost Society Battersea!

Very friendly, kind, and helpful staff. Had a dinner reservation before a large engagement drinks party. Food was delicious and the service was quick. The bar-tender in our section was lightening quick and always had a smile. Thank you all of you!!

So pleased that Lost Society has returned to its wonderful standard of years gone by. We booked in a celebratory meal on Sunday for my 75 year old mother and the team gave us the BEST possible service accommodating our requests superbly. With the recent refurbishment the decor has returned to gorgeously delightful design that creates a welcoming space that is exceptionally pleasing to the eye. It's a remarkable place that is able to cater for a 75th birthday celebration and an 18th birthday bash (separately of course but I'm sure they could pull it off it was a join one!) and all participants come away delighted. Great cocktail selection, super food choices (the vegetarian options are sublime) and wonderful staff that make it a perfect destination whatever the occasion - celebration or just a place to relax. I can't wait to go back.

Visited for the first time on Saturday for brunch, what a great place the decor and atmosphere had a cool vibe and the food and service were wonderful. Great choices on the brunch menu, we were five and all tried different things off the menu and all were superbly presented and tasted even better, the service was very attentive. A great place to come for a drink, food and hang out.
OPENING TIMES
Monday & Tuesday Closed (Available for private hire)
Wednesday – 4pm to 11pm
Thursday – 4pm to 11pm (Available till 1am on request)
Friday – 4pm to 2am
Saturday – 11am to 2am
Sunday – 12pm to 12am